A message from NJAPZA President, David Kois
Dear NJAPZA Members,
During this unprecedented public health crisis the New Jersey Association of Planning & Zoning Administrators will continue to support its membership. All in person NJAPZA events and partner events such as the Rutgers Center for Government Service's 20th Annual Current Issues Rutgers are postponed until further notice. The NJAPZA is working to determine opportunities for virtual/remote content. I strongly encourage you to like the NJAPZA Facebook page to receive the most up to date information. Please communicate with us and let us know how you are doing and what we can do to assist you. To the members who are at the front lines and continue to work in the public, thank you for the work you do to serve the community. Please be safe, be well and we look forward to reconnecting with you soon.
Sincerely,
David Kois, President
Check In on Planning & Zoning Offices …  How are you doing?
Applications – Hopefully at this point all PB/ZB Administrators should have some handle as to the status of the applications already in the process.  If you haven't done so already, reach out via email (if you have remote access to your office system or have someone who is going into your office send them) and ask for an extension through July 31, 2020.
Does your town have a policy that no public can submit to the offices and requiring all submission must be done either electronically or by mail/UPS/Fed Ex etc.?  Check with your supervisors/administration if this is something that can be considered.
Public Meetings
Formal Hearings – Due to the restrictions on public gatherings, public hearings are still in limbo as the various legal teams, state and local, figure out compliance with OPMA & MLUL.  If you are in contact with your Board attorneys, discuss the challenges you face on the municipal side:
public access to view application prior to the hearing
no electronic process to file applications
controlling public comments during the webinars to ensure the Board hearings follow the MLUL/OPMA statutes
At this point, everyone is dealing with the new normal and it will take time to work out all of the details.
General Outreach
Emails – Many applicants and attorneys may seem overly pushy as to when to get back to business.  You'll receive inquires as to next hearing, when can the sign off occur, need a building permit – the list goes on and on.
This is a good opportunity for you to circle the wagons of your support groups – either by email or meeting electronically through Zoom.  Schedule these meetings weekly.  Talking through what is facing the office on a daily basis and how best to respond provides a tremendous amount of support and shows the public that they are not forgotten.
NJAPZA is here for you through these times … please reach out to us with your questions.
To donate to the Jackie Zelinka Memorial Scholarship, please make your checks payable to : NJAPZA – Jackie Zelinka Scholarship and mail to: Christina Schwartz, Executive Director PO Box 7186 Hillsborough, NJ 08844
The Mission of the NJAPZA is to educate our members to the legal requirements of planning and zoning administration and public employment and thereby to promote a better unders
tanding of the official duties and obligations of its members.
President: David Kois
Vice President: Sal Poli
Treasurer: Erik Brachman
Secretary: Joann Ricks
Click HERE for the Continuing Education Opportunities at the 2019 New Jersey State League of Municipalities Conference for Planning/Zoning Board Secretaries, Zoning Officials, and Land Use Administrators
NJAPZA will be awarding this scholarship annually. Individuals new to Planning & Zoning and enrolled in one of the introductory classes offered by Rutgers Center for Government Services seeking certification as either a Board Secretary or Zoning Official are eligible to apply.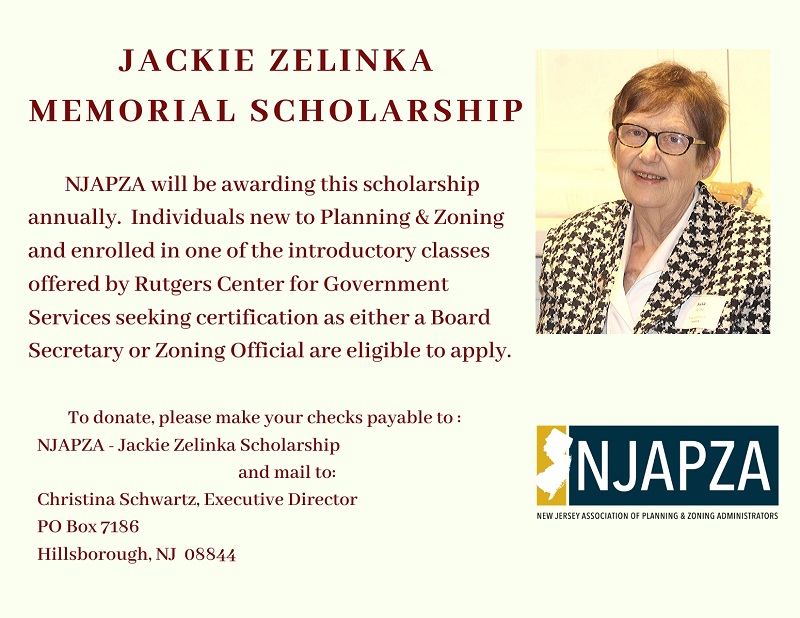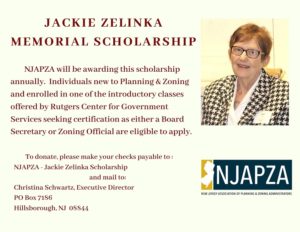 To donate, please make your checks payable to : NJAPZA – Jackie Zelinka Scholarship
and mail to:
Christina Schwartz, Executive Director
PO Box 7186
Hillsborough, NJ 08844
NJAPZA Members: Please be aware that due to scheduling conflicts, the NJAPZA Executive Board will not be meeting for their regularly scheduled December 2019 meeting. The Board will resume meetings, in accordance with the meeting schedule, in January 2020.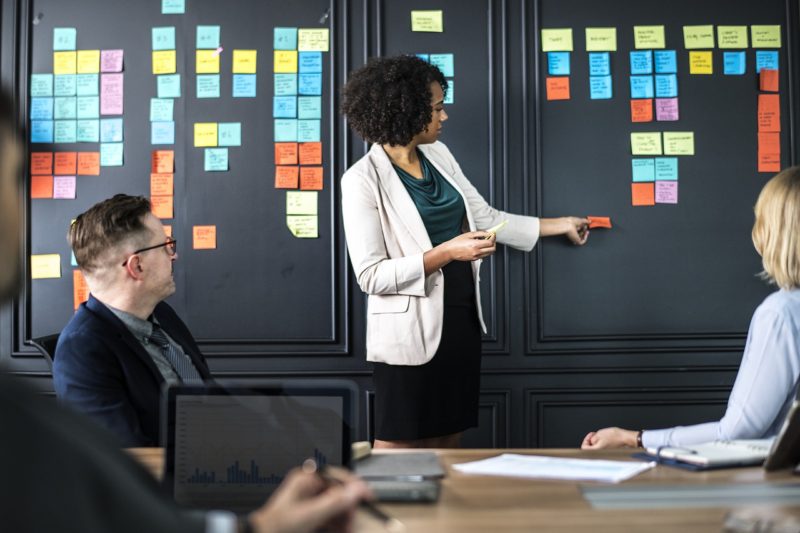 Continuing Education Opportunities at the 2019 New Jersey State League of Municipalities Conference for Planning/Zoning Board Secretaries, Zoning Officials, and Land Use Administrators