Chris Romano
Zoning Officer, Township of Brick
NJAPZA Member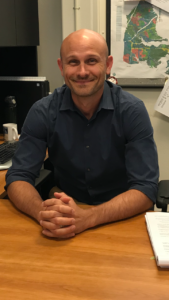 What do you love most about your current occupation?
I enjoy helping the residents of Brick navigate through the process of getting their project off the ground and that all starts in the Zoning Office. It's very satisfying for me to help someone get their first business started by helping them understand not only how to begin the process but why that process is in place. Getting a new business off the ground or building a new home is daunting to the average person enough, making that process a little easier by walking them through it is a big part of my job that I enjoy.
How long have you been a member of the NJAPZA?
I have been a member of the NJAPZA since 2014.
Why did you join the NJAPZA?
I joined the NJAPZA mainly for the educational opportunities that the organization provides. The Association is very active and offers many seminars and classes that keep Zoning Officers like me up to date with all the ever-changing statutes and guidelines that we all must know and follow to do our jobs effectively. New ideas and industry are being created and expanded upon every day and it is important to stay up to speed on all of it, and the NJPZA provided the tools and resources to do that.
What is a typical work day like for you?
A typical work day consists of responding to resident and customer inquiries and requests either by phone, email or walk-in. Reviewing applications for Zoning compliance for residential and commercial projects throughout the Township. Attending meetings with professionals and applicants presenting their projects to guide them the best way I can to confirm zoning compliance, advise them on Code requirements, and provide all the information so they can make an informed decision on how and if they would like to proceed. It's important to give people as much information as you can as it relates to their particular project so informed decisions can be made on their part that can save time, effort, and most importantly money.
What's something about you (a fun fact) that not many people know?
After 20 years (since my Freshman year of college) of hanging up my baseball cleats I began playing in a fast pitch softball league. My body is not holding up as well as it used to but I am having a great time playing and enjoying the comradery that goes along with team sports. I hope to continue playing because it is really fun.
What do you enjoy most about the NJAPZA?
I enjoy the opportunity to talk to fellow Zoning Officials and Planners on a regular basis to understand and learn what other people in my position are doing under similar circumstances. The NJAPZA allows for this interaction and it's very beneficial for all of us to discuss different topics and share our experiences.
Who inspires you?
My wife Stephanie and two little girls Alessandra and Viviana inspire to me to be a good father, husband, and the best person I can be.
When you have 30 minutes of free-time, how do you pass the time?
My wife and I usually like to take the girls for a walk or just do something as a family.
What's the best advice you would give someone in your line of work?
The best advice I can give is to always remember you are in your position to help people. Telling people what they can't do on their own property happens enough day to day so don't get caught up in that. Focus on how you can help people get to where they want to go. Stay consistent with how you go about doing your job, follow the Code, and treat everyone equally.